Construction Technology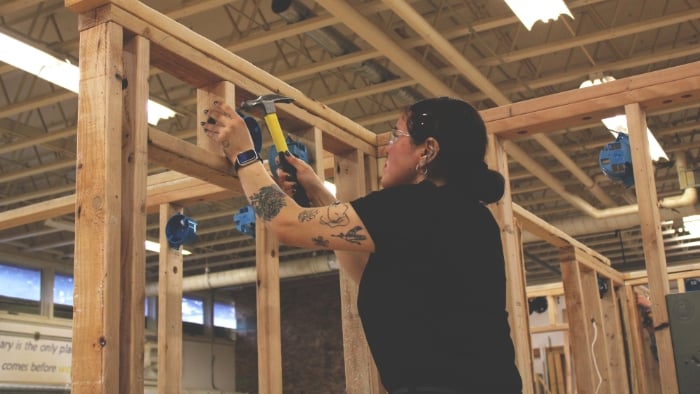 Construction Technicians build, install, maintain, and repair structures; working on and around a wide variety of electrical, plumbing, heating and ventilation systems. Students in this program receive training in construction and maintenance of structural systems including basic carpentry, concrete, roofing, interiors and exterior finishing, basic electricity and thermal and moisture protection systems. The Construction Technology program provides students with a wide variety of experiences that prepare them for entry-level employment and for apprenticeships in the construction and maintenance trades.
Program offered in: January
Training Times: 8:30 a.m. to 4:30 p.m., Monday through Friday
Clock Hours: 630
Requirements
Information Technology
Students are required to bring a laptop or notebook and have basic computer skills necessary for accessing internet and AVTEC Learning Management System.
Employment Requirements
There are no employment requirements for this program.
Program Specific Requirements
Students will be exposed to and should be comfortable with constant physical activity. Will need to demonstrate the ability to stand, walk, sit, lift, carry, push, pull, twist, turn, bend, squat, climb, kneel, crouch, crawl and reach.
The following are minimum level of physical requirements expected to be performed:

Lift 75 pounds
Carry 50 pounds
Push 100 pounds
Pull 50 pounds

Vision is critical. Proper prescription safety glasses are recommended for students with prescription lenses.
Student should supply properly fitting work clothes, steel toe or reinforced toe work boots. Student's should be prepared and dressed appropriately for working in incremental winter weather.
Industry Certifications
OSHA 10
First Aid and CPR
NCCER Curriculum
Courses