Plumbing and Heating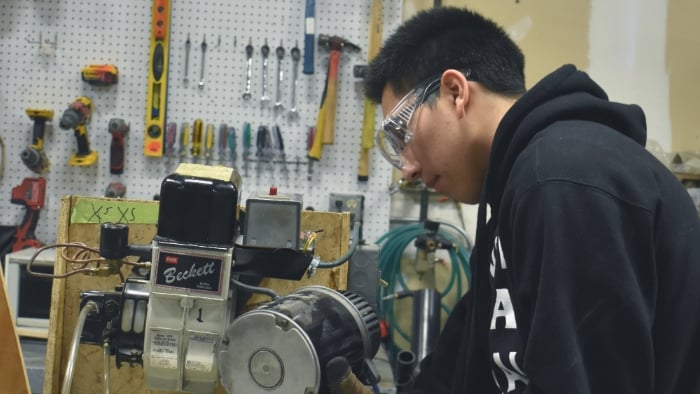 Plumbing and Heating Technicians are in demand throughout Alaska, in both urban and in rural areas. As a result, graduates of the Plumbing and Heating program enjoy excellent job opportunities and good pay. Plumbing and Heating students receive basic training in construction and maintenance of plumbing and heating systems. The Plumbing and Heating program provides students with a wide variety of experiences that prepare them for entry-level employment and for apprenticeships in the plumbing and heating, construction and facility maintenance trades. The Plumbing and Heating program's blend of classroom instruction, lab, and live-work practice help students to learn the necessary skills to succeed in an apprenticeship program and become a Plumbing and Heating Technician. The program is fast-paced and challenging. Students should have good mechanical aptitude, strong mathematics and reading skills, and the ability to manage time productively. Typically 50 percent of the training is hands-on and 50 percent is classroom instruction. Training includes outdoor activities, so students need appropriate clothing for cold and wet working conditions.
Program offered in: August
Training Times: 8:30 a.m. to 4:30 p.m., Monday through Friday
Clock Hours: 630
Requirements
Information Technology
Students will need a Laptop computer for this training program and be able to demonstrate understanding using the following electronic equipment and functions:

Laptop Computers
Understand opening, reading, sending and replying to e-mail.

Have a valid e-mail address.
Have a basic understanding of computer graphic interfaces
Employment Requirements
Clean driving record, with the ability to earn a valid Alaska driver's license.
Will demonstrate the ability to show up on time, rested and dressed for the work day.
Safety conscience, situationally aware of surroundings. Understands and willingly enforces industry safety standards
Program Specific Requirements
Students will be exposed to and should be comfortable with constant physical activity. Will need to demonstrate the ability to stand, walk, sit, lift, carry, push, pull, twist, turn, bend squat, climb, kneel, crouch, crawl and reach.
The following are minimum level of physical requirements expected to be performed.

Lift 75 pounds
Carry 50 pounds
Push 100 pounds
Pull 50 pounds

Vision is critical. Proper prescription safety glasses are recommended for student's with prescription lenses.
Student should supply properly fitting work clothes, steel toe or reinforced toe work boots. Student's should be prepared and dressed appropriately for working in incremental winter weather.
Industry Certifications
OSHA 10
First Aid and CPR
Courses