Culinary Arts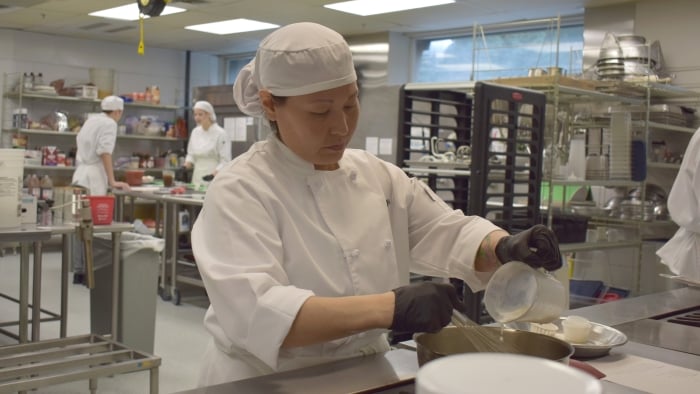 Come prepare for a career in culinary arts! Cooking is a tangible and satisfying profession and provides an outlet for creativity, a sense of community, and financial stability. The culinary arts field has many job opportunities and is a great career path for those who are passionate about food and cooking, AVTEC's Culinary Arts program highlights hands-on competency-based training through progressive learning units. A large percentage of the training takes place in our extensive kitchens providing students ample time for their skills to develop. The program begins with basic culinary skills and gradually incorporates more advanced techniques and provides more in-depth student evaluations. Students can expect to work individually and in small groups. In addition to cooking, classes include core culinary topics such as nutrition, purchasing and inventory, and restaurant management.
Program offered in: January, August
Training Times: 8:30 a.m. to 4:30 p.m., Monday through Friday
Clock Hours: 630
Requirements
Information Technology:
Students are required to bring a laptop and have basic computer skills necessary for accessing the internet and AVTEC's Learning Management System.
Employment Requirements:
ServSafe®, Food Handler or Food Protection Management Certification Demonstrate the ability to show up on time and dressed for work. Safety conscience, situationally aware of surroundings. Enforces industry safety standards
Program Specific Requirements:
Wear a clean, properly fitting uniform and practice good personal hygiene.
Ability to lift 50 lbs.
Able to be on your feet for long periods of time, may be exposed to hot and cold temperatures such as hot oven or cold freezer.
Follow food safety and sanitation rules
May be exposed to hazardous situations that produce cuts and minor burns.
Training Hours Exception
Depending on the training segment, classes may be scheduled earlier or later to include a work-based activity or catered event.
Industry Certifications
ServSafe® Food Protection Manager Certification
First Aid and CPR
OSHA 10
Courses