Industrial Electricity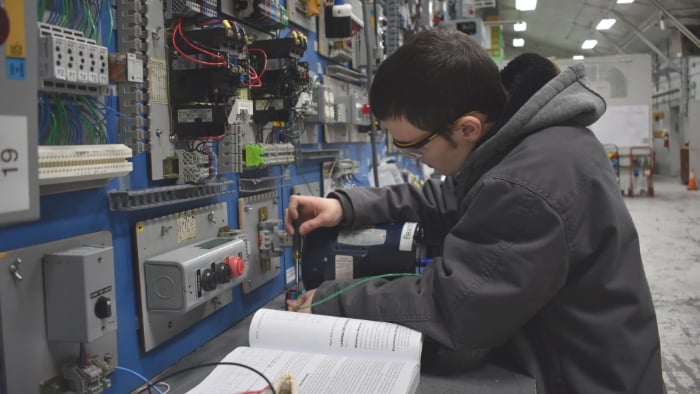 Industrial Electricity students use their sharp mathematical and critical thinking skills to develop a functional understanding of electrical theory and practical applications of electrical circuits. They apply what they learn to wire up, characterize and test electrical motors, transformers, renewable energy systems, and efficient power distribution systems while using the National Electrical Code and electrical safety standards during this process. Industrial Electricity students develop in-demand skills needed to use electrical instruments, install conduit and circuits, test and troubleshoot common control circuits, program PLC's, HMI's, set up industrial networks and become proficient in the understanding of power and controls to get things done safely efficiently in the electrical work environment.
Program offered in: August
Training Times: 8:30 a.m. to 3:30 p.m., Monday through Friday
Clock Hours: 1080
Requirements
Information Technology
Demonstrate understanding and fill requirements using the following computer hardware and software:
Student supplied laptop computer must have a USB port and be capable of accepting a USB to 9 pin serial converter, or have a 9 pin serial port. Ability to connect a USB to Ethernet adapter, printers, install drivers and access administrator settings.
Software applications such as MS Word and Excel.
Ability to use CAD software.
Use a PDF reader.
Employment Requirements
Ability to complete work independently, manage time, records keeping, develop and follow checklists, obtain information through their own research.
Good mechanical aptitude and have familiarity with basic hand tools.
Will demonstrate the ability to show up on time, rested and dressed for the work day.
Show a safety conscience situational awareness of surroundings.
Understanding and wiliness to comply with and enforces industry safety standards.
May need to be able to apply and receive a Transportation Worker Identification Credential (TWIC) card or similar government issued security clearance.
Clean driving record, with the ability to earn a valid Alaska driver's license. Able to begin the process to obtain a Commercial Driver's License (CDL).
Program Specific Requirements
Successful completion of two semesters of High School Algebra with at least a grade C. Geometry, Algebra 2, Trigonometry, Statistics and Pre-calculus are recommended. Good reading comprehensions skills are essential.
Students should be comfortable with constant physical activity and be able to stand for 85 percent of the training day.
Be able to demonstrate the ability to stand, walk, sit, lift and carry (up to 50 lbs.), push, pull, twist, turn, bend, squat, climb, kneel, crouch, crawl and reach continuously.
Demonstrate good manual dexterity with fine motor skills.
Work from heights greater than 6 feet while using fall protection equipment.
Good peripheral, far and near vision, with the ability to shift focus and the ability to distinguish colors accurately is required. Proper prescription safety glasses are recommended for students with prescription lenses.
Student should supply properly fitting work clothes, steel toe or reinforced toe work boots. Student's should be prepared and dressed appropriately for working in inclement weather.
Ability to wear hearing protection and communicate verbally in noisy environments while wearing required personal protective equipment such as respirators, hoods, hard hats and face shields.
Industry Certifications
OSHA 10
First Aid and CPR
Up to 1,000 classroom hours may apply toward requirements to sit for the State of Alaska Journeyman Electrician's Licensing Exam.
Courses