Diesel/Heavy Equipment Technologies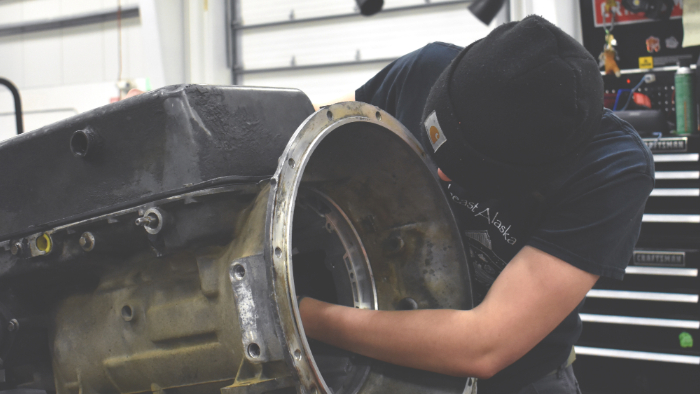 Generally, over half the investment of a mining, construction, highway transportation or logging business is in its equipment. Good preventive maintenance is a priority and contributes to the success of the business. The hands-on approach of AVTEC's Diesel/Heavy Equipment Technologies program helps students learn how to service, maintain, and repair equipment ranging from semi-trucks to bulldozers. As most equipment is powered by diesel engines, students will disassemble, measure, and reassemble engines to factory specifications. The technology changes in the past few years have led to the use of laptop and dedicated scan tools for diagnosis of electronically controlled engines and systems. Because of the complexity of this equipment, students should have good mechanical aptitude, strong reading and mathematics skills, should possess a good work ethic, and have the desire to succeed. The nature of the training requires that students sometimes work outdoors. Warm clothing, rain gear, and proper safety boots are required. Construction equipment such as dump trucks, road graders, front-end loaders, backhoes, bulldozers, and large transport trucks are utilized by students developing mechanical skills.
Program offered in: January, August
Training Times: 8:30 a.m. to 3:30 p.m., Monday through Friday
Clock Hours: 1080
Requirements
Information Technology
Demonstrate understanding using the following electronic equipment and functions:

Laptop Computers
Electronic Tablets (I-Pads are used in the program – provided as part of the books and supplies)

Understand opening, reading, sending and replying to e-mail.
Have a valid e-mail address.
Have a thorough understanding of computer graphic interfaces, specifically Windows.
Operate and interpret diagnostic equipment, including scan tools utilizing OEM software.
Employment Requirements
Clean driving record, with the ability to earn a valid Alaska driver's license.
Able to begin the process to earn a Commercial Driver's License (CDL).
Demonstrate the ability to show up on time, rested and dressed for the workday.
Safety conscious, situationally aware of surroundings. Understands and willingly enforces industry safety standards.
May need to be able to apply and receive a TWIC card.
Program Specific Requirements
Ability to succeed in a high paced environment with rigorous academic and technical training.
Students will be exposed to, and should be comfortable with, constant physical activity. Will need to demonstrate the ability to stand, walk, sit, lift, carry, push, pull, twist, turn, bend, squat, climb, kneel, crouch, crawl and reach.
The following are minimum level of physical requirements expected to be performed:

Lift 75 pounds
Carry 50 pounds
Push 100 pounds
Pull 50 pounds

Vision is critical. Proper prescription safety glasses are recommended for students with prescription lenses.
Student should supply properly fitting work clothes, and steel toe or reinforced toe work boots. Student's should be prepared and dressed appropriately for working in inclement winter weather.
Industry Certifications
OSHA 10
First Aid and CPR
Receive training to obtain EPA 609 certification for handling of refrigerants
Courses